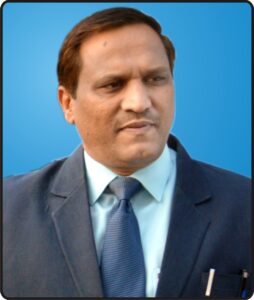 My heartiest congratulations to all those who are associated with Air Force School Kanpur on its Golden Jubilee year celebrations.
Air Force School has shown indomitable spirit that establishes its accomplishments. It now celebrates fifty years of its firm foundation and on this special occasion I would like to go down the memory lane.
As I pen down my thoughts for this special issue of school magazine, my memory goes back to the day when I first visited the school for my interview. I was impressed with its alluring building, lush green surroundings and tranquil atmosphere.
I joined Air Force School faculty on 26 December 2006 and I am proud to be associated with it till date. To begin with, I entrusted upon myself with the responsibility of upgrading the school technologically while maintaining its principles and convictions. Today, the school facilitates for its students adequately equipped labs, digitally automated library, smart class rooms and a language lab for improving communication skills. The school has a vision of grooming its children to meet challenges of life with confidence and competence. Being focused on our policy, we have been achieveing excellent board results year after year and brought innumerable laurels in co-scholastic front. This has enabled the school to earn a great name under the canopy of education.
Achievements and fame of this stature would have remained a far fetched dream without positive support of past and present School Management Committee. I remain indebted to them for guiding me in the noble journey of taking the school to a towering heights. Having completed a long and eventful journery at Air Force School, I remain greateful to my dear students, teaching and non teaching staff who have stood by my me all these years and have been a pillar of my strength.
Finally, I appreciate the efforts of all those who have been working hard to breath life in every page of this magazine. I extend my warm regards to all.
"THANK YOU!"